Kasiala Said Fortune, first woman coppersmith in the history of shipyards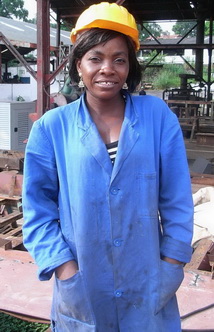 Monday May 12th 2014 Kasiala Saida Fortune is a young woman working within the CHANIMETAL company, more specifically within the coppersmith techniques division. She has succeeded in integrating a predominantly male field. Below are a few questions which she was asked, in regards to the exclusivity in the African world.
Boiler making is an industrial branch that covers the whole of metal working activities. Working with sheets of metal, tubes, profiled steel, and building equipment designed for multiple sectors such ship building, metallic constructions etc.
WHAT WAS YOUR MOTIVATION TO PURSUE A CAREER THAT IS GENERALLY RESERVED FOR MEN?
I have had the motivation starting from my childhood. It was my dream job and it still is today. In the beginning, my parents did not agree with my choice. I was therefore obliged to study Biochemistry. It was following my studies that I began to have more freedom. I then guided my attention towards Technique, where I am today.
HAVE YOU ENCOUNTERED ISSUES ON THE JOB IN REGARDS TO THE ATTITUDE OF MEN TOWARDS YOU?
I experienced cries of happiness from the men everywhere, they were probably surprised considering it must have been a first for them. They welcomed me with a lot of enthusiasm but mixed with skepticism, most likely they did wonder if I was going to rise up to the job. It is after some time that they understood that I might be a "biological" woman but that somewhere I might have male hormones in me because I managed as well as they did.
ON THE FIELD, HOW DID YOU MANAGE TO KEEP YOUR INTIMACY WHEN YOU NEEDED TO CHANGE?
The question never came up for me because the field was equipped with a female restroom where I would change before and after my shift. But for the men, its not always easy, they would chase me away a little before the end of our shift so they could change in peace.
DO YOU THINK THAT THE MALE POWER IS NECESSARY TO ACCOMPLISH THIS TYPE OF MANUAL WORK?
Sometimes, the work does require an immense muscular force however I have never been excluded from this work. I have always done what was asked of me.
INTERVIEW BY A STUDENT AT THE LYCEE PRINCE DE LIEGE, DENISE BERETE, INTERN AT CHANIMENTAL
https://chanic.com/wp-content/uploads/sites/46/2018/08/R001094011.jpg
332
214
tstephanie
https://chanic.complexe.foodle.co/wp-content/uploads/sites/46/2017/06/CHANIC-logo.png
tstephanie
2019-06-06 10:59:18
2022-07-26 09:29:25
Kasiala Said Fortune, first woman coppersmith in the history of shipyards